Has a goal ever hit you so hard that you wished there more than 24 hours in a day? Well, that is where we've been in the last two weeks. We've finally begun to make movements toward two things: 1. the development of game documents & 2. a social media strategy.
So, let's address each one separately.
Developing the Game Docs
We decided on the very first game that we would like to be the first official release for Nerdy Bear Studios. It will be a mobile-based game that is inspired by one of the most interesting, intoxicating, and fun places we have ever been.
We are working alongside a game designer to get some detailed game documents ready to start the actual development process. It's an exciting time. One where we are smoothing out the story, walking through technical aspects of the game, and getting the opinions of friends and family. We are definitely in information-gathering mode.
Creating a Realistic Social Media Plan
Being honest, both myself and my partner still have full-time jobs.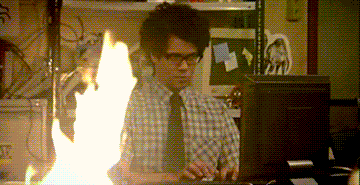 So, it has been a challenge keeping things up—especially on the marketing front. However, we have done three things within the past two weeks:
Talked about priorities – We begin to realign our priorities and understand what matters at this point and what we can schedule for later. We started to discuss how we need to make getting the word out about what we do a priority. The last thing we want is to build a cool game, but not have anyone to share it with.

Understood how important brand messaging is – Brand messaging is all about creating conversations and connections. We want to be as interactive and transparent as we can be about what we are working on. We knew this has to be a part of our overall strategy, and we wanted to get better at using social media to do this.

Creating realistic goals – Can we both dedicate five hours a day to social media marketing and branding? No! However, what we can do is develop a blog post a week, use our work breaks to interact with you all on social media, and make a conscious effort to grow our following.
Our top two goals at this point are to start the process of creating an excellent game that you will enjoy, and creating a community with you while we do it. So, you can expect more social media-related updates and some good progress on the technical side of the development of our first game.