February has been a busy month at the NBS lair. From enjoying one of the coolest Cons we've ever attended to holding our first live Q&A, Feb was equal parts fun as it was hard work. We are on our way up the stairs of progress lol
Keep up-to-date with what's happening at NBS below.
The Joy That Was Virtuous Con
A couple of months back, we kept seeing tweets for Virtuous Con (Twitter is an excellent place to find out about Cons). So, curiosity got the best of us (and we're glad it did!), and we immediately dug deeper. What we found had us immediately adding this event to our already-packed Google calendar for Feb 20th through the 21st.
Virtuous Con is an event that celebrates the work of independent science fiction, fantasy, and comics creators. From virtual booths for vendors to interactive panels, this Con had it all.
Bonus: One of the most awesome and special things about this Con is that it spotlighted the work of BlPOC creators.
Here are a few of our takeaways from attending this excellent event: 
Virtuous Con Created an Immersive Virtual Experience
If you are working on a Con of any kind this year, Virtuous Con should definitely be a model. They created an immersive experience that mimicked what an in-person Con would feel and bypassed the limitations of COVID-19. First, the conference tool they used made it possible to easily engage in video conferences with other attendees and participate in Con-wide chats.
Additionally, the layout was reminiscent of a conference floor with virtual vendor booths, multiple floors, and the opportunity to enter a panel discussion room. You could even pick seats like at a real Con. The Virtuous Con team thought of it all when they created this immersive Con experience, and it totally showed.
The Importance of Supporting Diverse Creators
We had the pleasure of attending the Women of Color in Sci-Fi Television panel. And one of the takeaways that we took from this exceptional discussion was how important it is to have people of color at the table and support them when they come. Panelist, and owner of the Interspectional podcast, Latisha Jones, knocked it out of the park with this quote: "Put me in the room, but expect that I'll be there."
This session was a great look into how to take the steps to be inclusive and truly involve people of color in the creative process to ensure our voices are heard.
The Intersection of Hard Work and Looking Beyond Perfection
How many times have you brushed off a project because you felt you couldn't reach the level of perfection you had in your head? We've been there! Making Our Way: A Guide to Independent Publishing provided some insight into how to get over this hump. This panel included some exceptional titans in the comic industry, and each of their stories was an inspiration. The two quotes that resonated with us from this session were:
"Anything good comes with sacrifice." –  Roye Okupe, Founder of YouNeek Studios,
"Nothing is going to be perfect, just get it out there!" – Jamilla Rowser, Founder of Black Josei Press.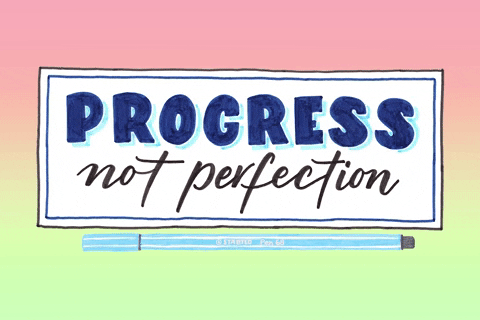 For us, these have been two ideals that we have had to stick close to in our push forward with NBS projects. It was confirmation that we have the right idea to reach the next rung on the ladder.
Virtuous Con Was The Highlight of This First Quarter of 2021
This experience was the highlight of the first part of 2021. It was fantastic to see other BlPOC creators discuss their evolution, and make a difference in the world through their creativity. Virtuous Con's next event is coming up this June, so please check this exceptional team out!
Hamsterdamm Updates
Things are full-steam ahead with Hamsterdamm. If you have been keeping an eye on our Twitter and Instagram, you might have seen our: "By golly we've got a menu" post (We were clearly going for Gomer Pyle vibes here lol). The developer that we are working in collaboration with created an exceptional menu, and laid the groundwork for the prototype for movement and physics within the game.
We also have a settings page (woot!). Now, our amazing composer Will Dodson, the developer, and ourselves are collaborating in Discord to begin combining the music, gameplay, and aesthetic elements.
Here are a few other quick updates that our team is working on:
The creation of a health system,
A basic enemy spawn system, and
A level selection screen
We should have more updates within the next two weeks.
We Had Our First Live Q&A on IG and Twitch!
This past Saturday (Feb 27th) we had our first ever Live Q&A! For a little over an hour, we spent some time talking with some awesome folks (you all!) about: finding funding as an indie game studio, the inspiration for Hamsterdamm, the potential for a shared universe (yeah..you heard that right ;-)), where you can play Hamsterdamm, and whether we get down to the Backstreet Boys or NSYNC (the convo took a fun turn lol).
We had an amazing time answering your questions and discussing what is up ahead! To take a look at the fun we had on IG, check out our IGTV post on Instagram.
There is a lot happening at NBS, so if you want to stay up-to-date, be sure to sign up for our email list to receive bi-weekly/monthly updates (and upcoming freebies). (link)
Thanks for taking the time to hang out with us today!
Feature image: Photo by Lindsay Henwood on Unsplash